Recently one of our partners—
Joseph Gacioch, City Manager for Ferndale, MI
—participated in a helpful webinar with the Michigan Municipal League. In it, he clearly and succinctly laid out his "Pandemic Playbook" for municipalities that want to reopen for citizens and employees.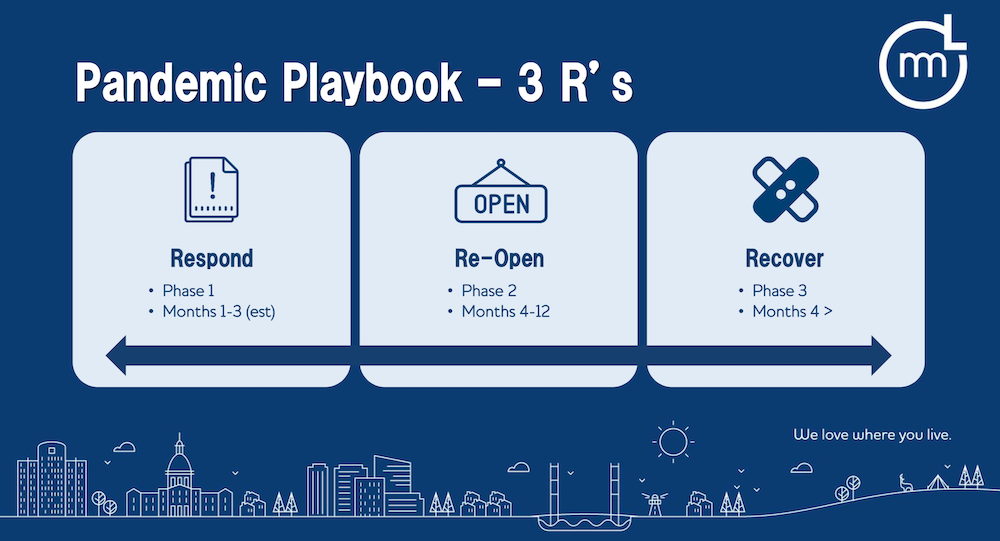 For many, the first phase has come and gone. In this phase, governments worked quickly to build new communication channels to keep citizens up-to-date; adopt new telework policies; close offices; and empower citizens to do more online. We talked about
how some local government agencies have responded to COVID-19
in a previous article. We also covered the
online services municipalities were using most
during the 'Respond' phase of this pandemic. These included:
Business Designations
Request for Evaluation
Time Tracking Sheets
Crime Tip Forms
FEMA Federal Reimbursement Forms
Telework Applications
And artwork submissions for elderly residents in the community
A Move To ReOpen Local Governments
Municipalities—and the businesses in them—are eager to reopen. In Santa Barbara, CA Mayor Cathy Murillo and her business advisory task force have outlined a plan for reopening, and said, "the county should let the city enter Phase 2 immediately, which means allowing seated dining that meets social distancing requirements." (
Source
) Other locations are following suit:
Denver plans to reopen golf courses soon
;
San Antonio is formulating a plan to return to "normal economic operations
"; and Oregon Governor, Kate Brown, will announce this week
which counties have qualified to reopen
. In the last two weeks, we've noticed a big shift to Phase 2 of Joe's Pandemic Playbook as an array of useful form types have come online. These forms are enabling cities to engage with citizens in a number of ways to make the most informed decision possible when it comes to reopening. And from what we've seen, citizens and businesses are eager to engage in these conversations and appreciate a government that gives them the chance to contribute. For example, in Washington DC, the District created a survey using Kofile to gather input from local businesses and constituents. The form received over 11,000 submissions in two weeks.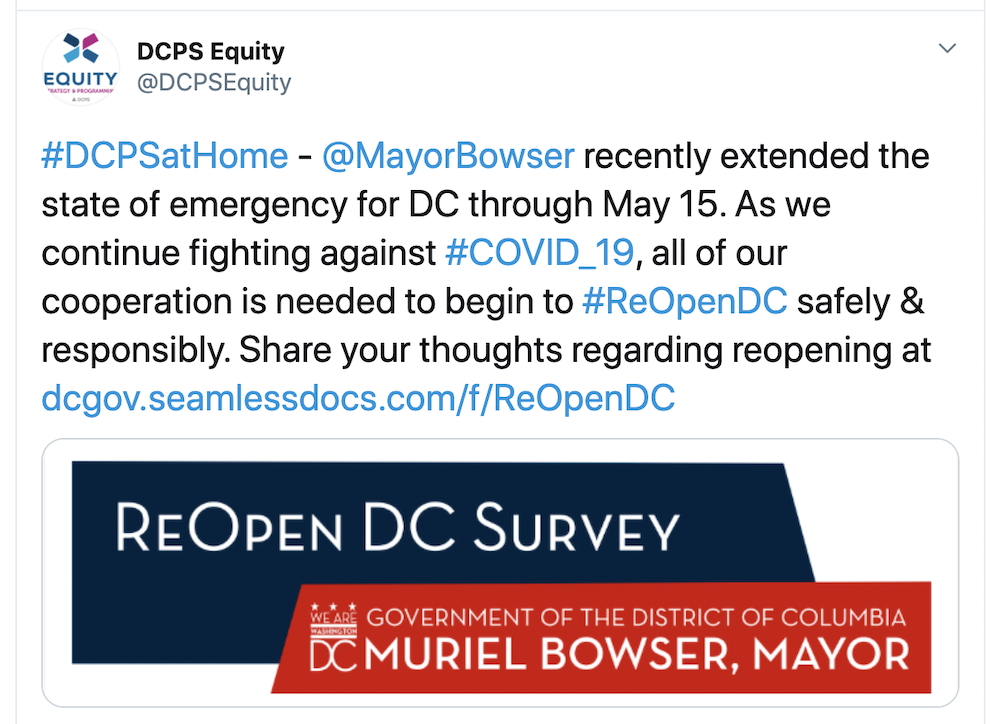 The City of Schaumburg, IL created a similar survey called the COVID-19 Business and Human Impact Survey. In it they sum up the challenge that the public sector faces in re-opening and why surveys like these are so critical.
"Numbers are critically important to tell the collective story of the COVID-19 virus impact on our business community locally. Right now, everyone is acting on assumptions. Our numbers help detail the reality for decision makers. As a business executive, we would very much appreciate your input…The aggregate results of this survey will be used to inform local and state elected officials, government agencies, and others of the economic and human impact of the COVID-19 virus (in Schaumburg)."
The Role of Online Services in ReOpening Communities
Just as online services were used to fulfill the needs of agencies in the Respond phase, online services will play an important role for agencies in the reopen phase. Establishing criteria for reopening and letting businesses apply when they meet those requirements will make the reopen process much more transparent and less arbitrary.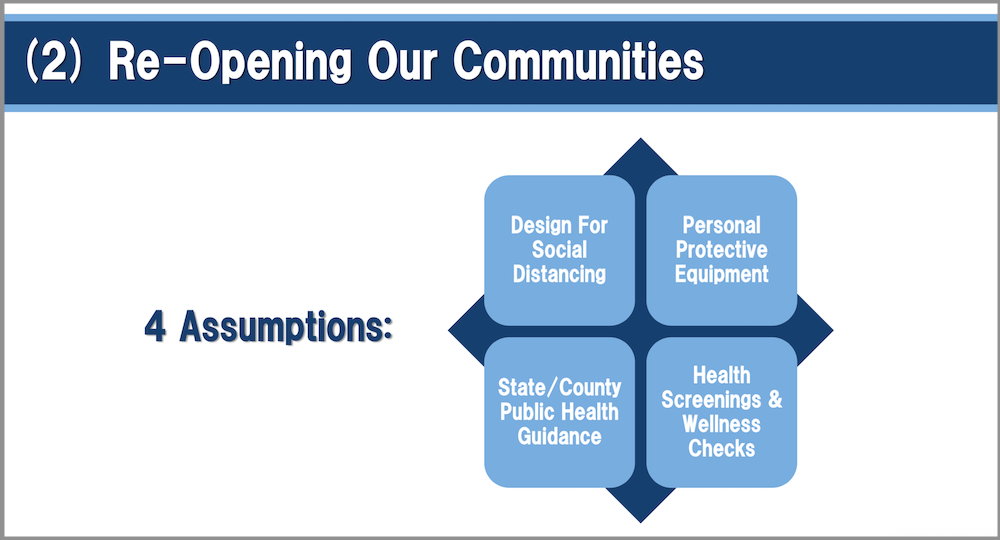 In our Top Forms Portal, we've captured a number of forms that have been created to assist municipalities with reopening. In addition to the DC Survey we mentioned before, here are a few other examples of online services that are being used:
Forms for hosting public events again
In Carbon County, the government has created a form to be completed by event coordinators that plan to gather people for a public event. Applicants have to specify how many people they plan to have at the event and outline what precautions they're compliant with local public health orders. This form submission is then sent to the County's Board of Health for review and, if approved, the submitter receives a written statement of event approval.
Application for businesses to open under safe operation restrictions
Businesses are understandably anxious to reopen. However it's nearly impossible right now for a government to issue a blanket mandate that all businesses are free to reopen. For the time being, each needs to be evaluated on a case-by-case basis. So Clarksville, TN and many other cities, a simple form is being used to let businesses owners request to reopen, and lay out all of the safe operations protocol they'll be expected to follow. This form also requires the business owner to agree to regular inspections to ensure they're following health guidelines and that, if they are found to be in violation of those guidelines, they'll be forced to close again. Other versions of this form type include:
Temporary Outdoor Dining Permit Application
Restaurant Reopening Giveaway
Application for monetary assistance as a result of COVID-19
Waiting for customers to come back might not be enough for small businesses struggling during this time. In the wake of the Federal loan program, many local governments are stepping in to offer their own loan programs, including the
small business recovery loan program in L.A. County
. In the City of Golden, CO, they've launched a business recovery loan program for business owners to apply. Business owners there can apply for up to $30,000. The form allows owners to sign the form, attach any required documents, and submit the application all online. Other versions of this form type include:
COVID Utility Service Relief Form
Emergency Assistance Document Submission